A quick summary and look at the upcoming weekend for the Grizzlies
It has not been a good week to be a Grizzlies fan. One really bad loss, another loss that, while not as bad, was extremely ugly, and constant bitching and moaning about "the Trade". I for one cannot wait for this week to end but let's give it a quick review.
The Games
Tuesday v. Phoenix: For some reason, the Suns have given the Grizz problems all year and Tuesday was no different: Martin Gortat absolutely abused Marc Gasol for much of the night; Gordon Dragic spent the 4th quarter scoring pretty much whenever he wanted; and the Grizzlies coaching staff took the team out of the game down the stretch. Zach Randolph had 21 points and 13 rebounds for the game but only had one shot on three touches in the 4th quarter. Down 4 late, the Grizzlies run a pick and pop three with Bayless and Darrell Arthur. Now had Bayless been shooting (he was the one bright spot scoring 29 points on 11-15 shooting and 3-3 from three) this might have worked out but that's not what happened. Darrell Arthur (who's made about 4 threes for his career) threw up a clanker. Game over.
Wednesday @ Atlanta: I don't even want to talk about this game. Several players (Z-Bo, Bayless, and Conley) had good offensive nights, but there was absolutely no effort on defense. To be fair, it was the second night of a back to back on the road against a pretty good team, but if Memphis wants to win, they don't need to give up nearly 60 points in a half.
Grizzlies Tweet of the Week Not from @HydeParkSwag
Best Grizzlies Article of the Week Not From This Blog
Kelly Dwyer of Yahoo's Ball Don't Lie absolutely eviscerated Lionel Hollins and his constant bitching. Definitely worth a read. Check it out here.
Grizzlies Tweet of the Week from @HydeParkSwag
Not my best work but I still snort every time I read it...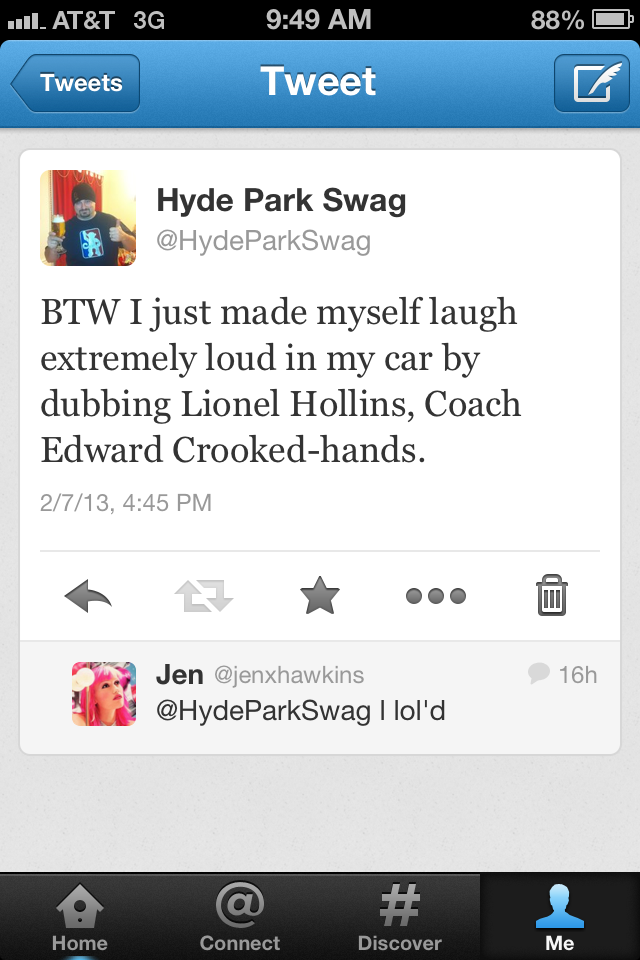 Weekend Preview
Friday v. Golden State- Big game tonight. Grizzlies really need a win especially since Golden State is only a half-game back in the standings. Memphis has won 8 straight in the series, longest streak by either team. Biggest key has got to be defending the 3 point line. Steph Curry and Klay Thompson can light it up. The Grizzlies defenders have to stay in their face and not leave them open on help defense. On offense, the key should be the same every game...get the ball to Z-Bo. He always tends to get the better of his matchup with David Lee. Also keep an eye on the bench minutes. Lionel Hollins has stubbornly refused to play Tony Wroten and has no idea how to play Ed Davis. This is going to have to change if this team is going to have any long term success.
Sunday v. Minnesota- Even with Kevin Love out with a fractured hand, Minnesota, matching their fanbase, is the whitest team since the Civil Rights Act. With Andre Kirilenko, Chase Budinger, Luke Ridnour, Alexy Shved, Greg Steimsma and about 5 other guys, they're the NBA version of a blizzard. I don't know if Will Conroy actually is white but, with that name, he's at least got a little snowflake in him. Ricky Rubio is a fun player to watch but he can't shoot for shit. The key match-up will be Marc Gasol, who really needs to shake out of his funk, against Nikola Pekovic, who has turned into a pretty good player at the center position. The game will also see the return of last season's fan-favorite energy-man Dante Cunningham to the Forum.
Additional Notes
-Grizzlies beat writer for the Commercial Appeal, Ron Tillery, tweeted out earlier today that while the team is still fielding trade calls for Zach Randolph, they are telling teams there is no interest in dealing the big man this season. Z-Bo himself was informed by management yesterday that he would not be dealt.
-More Z-Bo news...yesterday he received the NBA's Kia Community Assist award for January in recognition for his work with MIFA and other projects throughout the Memphis Community. More info on this can be seen here.
-Tillery also tweeted that injured SF Quincy Pondexter has been cleared for non-contact practice. There still is no set date for his return to action.